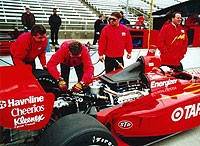 Comptech originated in mid '80's by preparing racing Acura Integra sedans with supercharged engines. Comptech then moved to the exotic Acura NSX powered IMSA (International Motor Sports Association) prototype cars, winning three consecutive championships in 1990, 1991 and 1992.
In 1992, driving the Comptech powered machines; Parker Johnstone claimed all 11 poles in that season in the IMSA Camel Light Series. This then lead Comptech to develop the Oldsmobile Aurora and Chevy INDY V-8 engine for the IRL (Indy Racing League) series in the late '90's through 2002 as well as producing top performing Chevrolet V-8 engines for IMSA (International Motor Sports Association). Additionally in '94 & '95 a Comptech engine went to victory lane in the Daytona 24 Hour race in the World Sports Car Class.
Comptech engines have powered top INDY series teams from 1997 through 2002 such as:
• Team Kelly Racing with Scott Sharp and Mark Dismore
• Chip Ganassi Racing with Juan Montoya, Bruno Junqueira, Jimmy Vasser, Tony Stewart, Jeff Ward and Kenny Brack
• Bobby Rahal/Letterman Racing with Jimmy Vasser
• Bradley Motor Sports with Buzz Calkins
• Walker Motor Sports with Sara Fisher
• Treadway Motor Sports with Arie Luyendyk, Sam Schmidt, Robby McGee, Jason Leffler and Rick Treadway
In 2000, a Comptech Oldsmobile Aurora engine won the Indianapolis 500 piloted by Juan Pablo Montoya.
In the late 90's and 2001 Comptech developed a Honda engine for Real Time Racing for the Speed World Challenge Series. These engines won many races and championships.
In 2002 – 2003, Comptech built engines for a number of Toyota Atlantic series teams.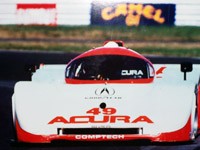 In 2004, Comptech developed an engine program for Mazda in the SPEED World Challenge Series. With Comptech engines, Mazda's Factory Race Team, Tri-Point Engineering campaigned multiple cars in the speed world challenge series to win the 2007 Touring Car Championship and the Manufacturers Championship.
In 2007 Comptech race engines won a number of Speed World Challenge Series races with Jeff Altenburg and the Tri-Point race team.
In 2008 Comptech race engines saw more victories in the Speed World Challenge Series and various SCCA events. One such win includes a win for the a Comptech engine was at Miller Motorsports park in Utah.
In 2009, COMPTECH developed the first Honda NSX engine for a Daytona Prototype in the Grand AM Series.
In 2009 the Comptech powered Mazda 6 engine of Tri-Point Motorsports would win 3 races. Many other World Challenge Series Mazda's would sit on the podium throughout the year with Comptech Engines.
In 2010, actor and race car driver Patrick Dempsey raced the new Mazda3 at Long Beach with a comptech prepared race engine.
COMPTECH is preparing for the 2011 – 2012 Grand AM Continental Tire Series a Mazda MX5 engine for C.J. Wilson racing.
In 2012 Mazda Factory team Tri-Point would introduce the new Comptech powered Mazda 3 SCCA Time Attack race car. Also in 2012 a number of the Comptech powered Mazda 6 race cars would travel to the Dominican Republic to race in the Dominican Touring Series, winning many races and the championship with Chip Herr in 2014.
In 2007, COMPTECH was purchased by Fred Penney, owner of Penney Racing Supply. The operation was moved to the new 18,000 sq. ft. PRS facility in Sacramento,Ca.
Comptech has been and continues to build racing engines for ALARA motorsports and Freedom Autosports that race in the IMSA Continental Tire Sports Car Challenge Series. This includes a Mazda Comptech powerd MX5 winning the Champtionship in 2015 and in 2016 a win at Lime Rock.
Comptech continues to build quality, fast, high powered racing engines for teams all over the world. Comptech's engines continue to win races throughout the United States and all over the world, too numerous to list.